Redesigned and back in stock!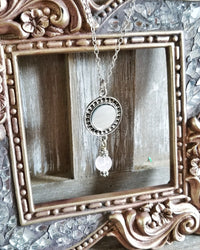 Hello Friends!
Many of our long time customers will remember the February Rose Quartz Mirror Necklace. This was a VERY popular design, and over the years our findings vendor eventually discontinued the mirror frame in the design. 
We are still receiving requests for this design, so we made a small change to the piece and are relaunching it! Since it's no longer February we are calling this one Rose Quartz Mirror Necklace. We are still limited in the number of this new design and only have 10 in stock, so act fast!
https://holisticarts.net/collections/mirror-necklaces/products/february-rose-quartz-mirror-necklace